Social tools
for distributed teams
using

Slack
Chances are high that you are working from home. Either because of Covid-19, or because you work for a modern company. Most likely you, or your colleagues, feel a bit lonely as a result.
There are steps you should take to make your team happier and more productive.
The WaterCooler is the first of these steps.
The WaterCooler
The WaterCooler is a Slack bot that encourages your team to get to know each other. It pairs up those that are online and encourages you to take 5 minutes to talk about something not related to work.
It is a simple, low ceremony, way of replicating the chance encounters that naturally occur in a physical office.
The benefits are immediate:
increased well-being and a reduced sense of isolation
improved communication within the team
higher retention of team members and lower chances of burn-out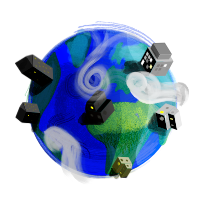 The WaterCooler
APP
12:00
Hello! Today's social pairings are:
@andrei

and

@paul

@benjamin

and

@lisa

@bryan

and

@jonathan

@caroline

and

@thea

@felix

and

@qingling

@manuela

, sorry I couldn't pair you today.
If you have run out of ideas about what to talk about you could talk about whether you play any musical instruments?
The WaterCooler bot is especially useful when on-boarding new team members. Knowing how their colleagues tick takes the edge off work related conversations.

Felix Bauer
CEO, Aircloak GmbH
Loneliness is one of the biggest problems of remote workers – that is a well known fact. Contrary to my first five years as a remote worker I now work on a team that uses the WaterCooler. The effect it has on morale and building good relations is obvious!
Andrei Bozantan
/ Developer
I can't believe there are still distributed teams without a WaterCooler bot!
Daniel Lennon
/ Open Source Developer
The positive effects of the WaterCooler are many. It has made me feel a lot more comfortable with my team members. As a bonus it also helps me develop my communication skills!
Edon Gashi
/ Developer and Teacher
My team has been using the the WaterCooler bot (and it's predecessor) for well over four years now. It has become a part of my workday that I would not want to be without.
Cristian Berneanu
/ Developer
Prices
The WaterCooler bot comes at four different price points. They are meant to be affordable for organizations of any size.
They are meant to be humane prices for humane teams.